Disinfection Services for Your Company in Glendale, CA
Our extensively trained contractors are certified by our Trauma & Bio-Recovery or the National Institute of Decontamination Specialists (NIDS) to get rid of harmful bacteria and viruses throughout commercial spaces. We take care of outbreaks like COVID-19 with maximum care and tenacity in order to make your company's space safe during these difficult times. Let us help your business stay in business and maintain your employees' safety.
Keeping Your Company Safe
Paul Davis sees your well-being as a top priority, especially during this pandemic, which presents universal harm to your business, employees and customers. We're constantly paying attention to information coming from the Centers for Disease Control and Prevention (CDC), World Health Organization (WHO) and first responders in the medical field for the latest recommendations. In this manner, we can better implement decontamination services that are instrumental to the well-being and safety of your company.
We Take the Precautions for You
Our goal is to keep you safe, especially as we're all dealing with the consequences of the coronavirus pandemic. Our commercial property sanitation services in Glendale, CA, consist of:
Sanitizing your commercial property by appropriately applying disinfectants
We are EPA and FDA approved against bacteria and viruses
We meet strict standards
In addition, we use the most advanced techniques in professional cleaning to provide more superior results. These consist of:
ULV Fogging: This is a preventative service that disinfects walls, floors and other horizontal surfaces.
Fogging with Horizontal Surface Wiping: For surfaces that undergo a lot of touching such as tabletops, telephones, technological equipment, etc.
Fogging with Full Wiping: Industry accepted measures for validated cases of coronavirus. This is a comprehensive cleaning service that uses disinfectants to clean your facility.
Help Us Keep Everyone Safe
Prior to us arriving, there are a few things you help us with to maintain everyone's safety. Primarily, it is critical for us to be aware if you have concerns or special precautions you would like us to exercise. For example, we can provide digital copies for follow-up information rather than paper documents.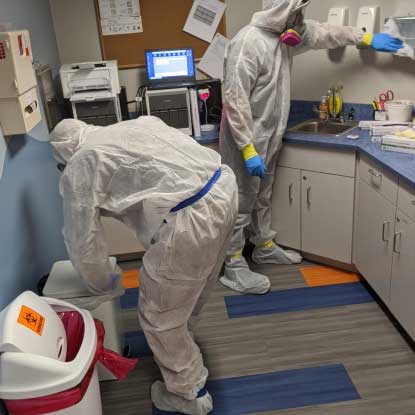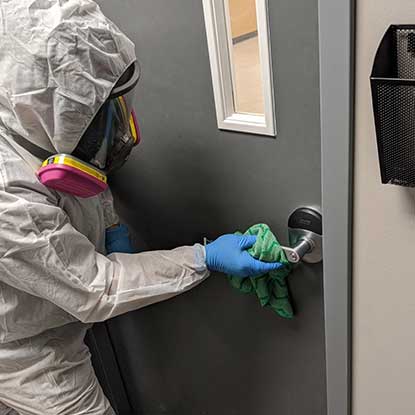 Contact Us Today
This day in age, viruses are a significant danger to society. Commercial decontamination services are excellent for recovering safety and peace of mind. Call our specialists at (818) 574-1444 for more information about the precautions we're taking to address the COVID-19 outbreak. We have the professional training that's necessary to thoroughly disinfect your commercial space.